Gary A. Fusfeld Memorial Fund
Honoring the memory of Gary A. Fusfeld (1940-2016)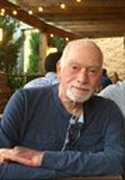 In September 2016, Gary passed away in the arms of his loving partner Tommy Kalogine. From early childhood, it was Gary's dream to be employed at Saks 5th Avenue in New York City. Never taking his eyes off his goal of working for Saks, Gary began his career as a window designer for H.C. Prange Co. It did not take him long to excel at his craft. He moved to San Francisco in the mid-1960s and quickly found employment at Livingstone's Department Store, where his dream took off. Soon he was designing windows for Saks 5th Avenue not only in San Francisco but also in Los Angeles, Boston, and New York. Gary's happiest years were spent in San Diego where he worked for Encore of La Jolla. During this time, he also did freelance work for celebrity events throughout California.
Gary was living with HIV for much of his adult life. Those who knew him best share that he had a vibrant life and truly lived his dreams. Gary is deeply missed by his partner, family and our community. 
Gary's family established the Gary A. Fusfeld Memorial Fund in his honor, through the UC San Diego HIV Institute. These funds serve as lasting tribute to Gary by supporting the work of AIDS Research Institute scientists and clinicians in their efforts to prevent, diagnose, treat, and one day cure HIV.
There are several ways to donate to the Gary A. Fusfeld Memorial Fund:
Online

Contributions can be made using MasterCard, Visa, Discover, or American Express here. Please note "in memory of" Gary Fusfeld by checking the box for honor/memory at the bottom of the page.

Phone

To make your gift by phone, please call Liz Johnson, Administrative Director, at 858-246-2103. Gifts can be made using MasterCard, Visa, Discover, or American Express.

Mail

Please make your check payable to "UC San Diego Foundation." In the memo line of your check please note "GF Memorial Fund/UCSD HIV Institute" and mail it to:

The HIV Institute
University of California, San Diego
Attn: Liz Johnson
9500 Gilman Drive, MC 0716
La Jolla, CA 92093-0716
The Tax ID Number for UC San Diego Foundation is 95-2872494. If you have any questions, please e-mail or call us at 858-246-2103.