Rick Mitchell Memorial Fund
Honoring the memory of Dr. Richard S. (Rick) Mitchell (1960-2009).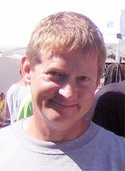 In September 2009, Dr. Richard S. (Rick) Mitchell died in a tragic accident. Dr. Mitchell was a long-time colleague and member of Dr. John Guatelli's research laboratory at UC San Diego.
Dr. Mitchell obtained his undergraduate degree at the Massachusetts Institute of Technology and his Ph.D. in the laboratory of Dr. Frederic Bushman, when he was at the Salk Institute. While in Dr. Bushman's lab, Dr. Mitchell provided key insights into how and where HIV-1 integrates into the host cell DNA.
At UC San Diego, Dr. Mitchell studied the HIV-1 accessory proteins Nef and Vpu, and described how they alter the trafficking of host cell proteins to allow the virus to evade the immune response.
Dr. Mitchell was admired and respected for his scientific accomplishments, his enthusiasm, and the kind-hearted and gentle manner with which he interacted with virtually everyone. He is greatly missed.
The Mitchell family established the Rick Mitchell Memorial Fund in his honor, through the UC San Diego AIDS Research Institute. Donations are used to support an annual Mitchell Memorial Lecture at UC San Diego and may also be used to directly support the work of HIV Institute scientists.
If you would like to donate to the Rick Mitchell Memorial Fund, please do the following:
Online

Contributions can be made using MasterCard, Visa, Discover, or American Express here. Please note "in memory of Rick Mitchell" by checking the box for honor/memory at the bottom of the page.

Phone

To make your gift by phone, please call Liz Johnson, Administrative Director, at 858-246-2103. Gifts can be made using MasterCard, Visa, Discover, or American Express.

Mail

Please make your check payable to "UC San Diego Foundation." In the memo line of your check please note "RM Memorial Fund/UCSD HIV Institute" and mail it to:

The HIV Institute
University of California, San Diego
Attn: Liz Johnson
9500 Gilman Drive, MC 0716
La Jolla, CA 92093-0716